Sell rings or a whole ring colelction
It's easy to sell a ring collection with sell-collectibles.com because we invented an easy process to sell single rings or whole ring collections. If you deal with us, you can trust on getting paid a very fair price for your rings because we don't only look for the material value because for most rings melting down isn't an option.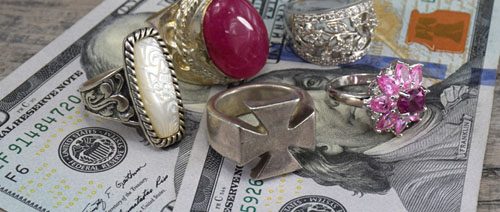 First we think that every ring deserves a second change on the market for pre-owned jewelry and second we believe that destroying time and efforts put on crafting a ring is the last option. Every ring made of gold, silver, platinum or other metals was a burden for mother nature because recovering metals is always kind of dirty and not very environmental friendly.
So if you sell a ring to sell-collectibles.com you have the guarantee that we do our best to resell your ring or your rings before we get on the material value.
We buy any gemstones and diamond rings
It's also important to know that we buy gemstones and diamond rings for very fair prices. We are interested in any gemstone rings like aquamarine rings, ruby rings, sapphire rings, kunzite rings, topaz rings, emerald rings and other gemstone rings. We also buy antique rings, rare rings and very special rings. Plus, our team of experts have the ability to deal with very valuable rings as well. And for you as a seller it's most important to learn that sell-collectibles.com has the money to pay big bucks. We are not a pawn shop or jeweler with bad attentions making a fortune on YOUR rings. We combine both, a very high price and a very smooth and easy selling transaction. And please don't worry about selling online.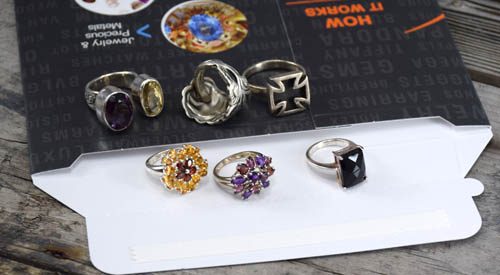 Sell rings using our mail in service
Don't worry about safety. We work with the high-value division of UPS what makes it possible to mail in rings worth 50 dollars as well as rings worth up to $100,000. The whole process of selling rings is well thought out and our support team supervises every step you take. Nothing will get lost and we report the opening process. Two experts will open your shipping box writing a report about the rings you have delivered to us. We weigh all your valuables and we also take pictures of it. It's so easy to sell a ring collection with us and we bet you get a much high price than selling to your local business.